WINTER 2024 FULL MOON SNOWSHOE TRIPS:
1/26/24, 2/24/24, 3/24/24
INCLUDES:
TRANSPORTATION FROM SANDY TO TRIP LOCATION
MSR SNOWSHOES AND POLES
POST SNOWSHOE TOUR MEAL AND BEVERAGE
GUIDED TRIP ON THE TRAILS OF MT HOOD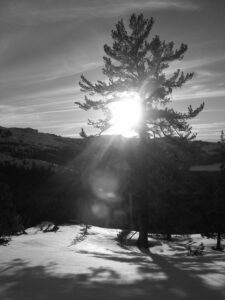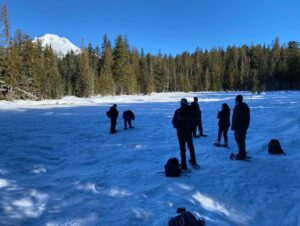 Join this fast growing sport of walking on top of the snow.  Snowshoeing is a wonderful aerobic exercise and an easy way to explore our snow covered forests.  Experience the quite sound of snow crunching beneath your feet and explore the mountains in a whole new way.
With locations around the Mt. Hood area, the many different locations available make for a different adventure every time.  Classics like the Trillium Lake snowshoe tour, with postcard views of Mt Hood or the exploration of the White River Glacier means you have the option for the best day available.
Most of our trips are for private groups, allowing us to best suit the day for your groups needs.  This means less people and a more custom experience.
Prices for private tours range from $70-$95 depending on group size.
Trips include  the following:
MSR Denali snowshoes & poles
Transportation from the Sandy area
Professionally guided trip
Snacks & hot drinks
All parking fees
*Additional services available (lunch, shuttle from PDX, boot rentals)
Mt. Hood Snowshoe locations include:
White River: Climb the hills of the White River Glacier and explore wide open meadows and forested tree lined trails to sweeping views of Mt Hood.
Trillium Lake: Descend down into one of the most iconic views in all of Oregon, Trillium Lake. With postcard views of Mt Hood and the lake, this loop hike makes its way around the shores of Trillium Lake.  Popular with snowshoers and XC skiers, the many side trails into the woods provide for more quite views of the woods and lake.
Twin Lakes
Mirror Lake and many other beautiful area's around Mt. Hood
Participants need to supply their own winter boats or hiking boats.
Trips will usually be 2-6 miles and less than 750 foot elevation gain.