BIKING RAILS TO TRAILS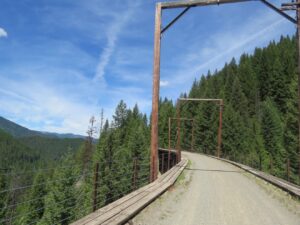 The Trail of the Coeur d'Alenes is one of the most spectacular trails in the western United States. This trail along with the Centennial and Hiawatha Trails make for an area full of geology and mining history.
The 73-mile Trail of the Coeur d'Alenes paved trail spans the Idaho panhandle between Mullan and Plummer. It was created through a unique partnership between the Coeur d'Alene Tribe, Union Pacific Railroad, the U. S. Government, and the State of Idaho. The trail meanders through the historic Silver Valley, along the Coeur d'Alene River past scenic Lake Coeur d'Alene and through rolling farmlands to Plummer. Twenty developed trailheads provide entry points, and there are twenty scenic waysides along the route with tables to stop for a picnic or a short rest.
The Hiawatha trail, is the crown jewel of our nation's Rails to Trails routes.  This special day takes you through nine train tunnels and across seven trestles with views of the towering Bitterroot Mountains.
Enjoy a day cycling around and exploring the lake side town of Coeur d'Alenes on the historic North Idaho Centennial trail.  This trail meanders along the waterfront and takes in the history of the town.
Available for groups of 6 or more for private bookings.  Other dates available through Road Scholar.